Wildfowl Photography
This website contains photographs, videos, and information on many species of wildfowl (Ducks, Geese, and Swans) from around the world. There are also Cranes, Flamingos, Screamers, as well as Coot and Moorhen.
Hopefully this will be a useful resource for identifying and learning about different types of wildfowl.
Wildfowl
Wildfowl are listed in alphabetical order
A-B, C-F, G-L, M-R, S-Z
and each page contains photographs, call, video and information (appearance, size, food, habitat, range (with maps), breeding season, eggs, conservation status, classification and interesting notes).
Identification
To help in quickly identifying a Duck, there is a page with all '
types of ducks
' which contains thumbnail photographs of most of the ducks of the world. The thumbnail can be clicked to enlarge the photograph or there is a link to more details, photographs, and video of the duck. Ducks are also listed under '
Dabbling Ducks
', '
Diving Ducks
', '
Perching Ducks
', '
Sea Ducks
', '
Shelducks
', '
Stiff-tail Ducks
', and '
Whistling Ducks
'. There are also pages containing '
Female Ducks
', '
Ducks in Eclipse plumage
', '
British Ducks
', and '
Domestic Ducks
'. To help with the terminology there is also a page of '
Duck external anatomy
' which tells you the name of different parts of a duck.
There is a page to help you quickly '
identify a Goose
' which contains many geese of the world. Geese are also listed under '
Black Geese (Branta)
', '
Grey Geese (Anser)
', and '
White Geese (Chen)
'.
Identification pages can be found for identifying '
Swans
', '
Cranes
', '
Flamingos
', '
Screamers
', and '
Moorhen/Coot
'.
WWT Centres
Many of the photographs in this website are taken at '
WWT Centres in the UK
', and WWT Slimbridge in particular.
There are nine WWT Centres in the UK including
Slimbridge
in Gloucestershire,
Arundel
in West Sussex,
Caerlaverock
in Dumfriesshire,
Castle Espie
in County Down,
London
,
Martin Mere
in Lancashire,
Llanelli
in Carmarthenshire,
Washington
in Tyne & Wear, and
Welney
in Norfolk.
Translation
Please like us on Facebook.
Google Ads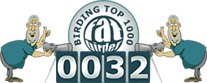 UK Airshows 2019
Computer Upgrades